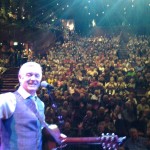 March 2015
Irish Edition – Philadelphia
By: Jamie O'Brien
Terra Nova: The Recordings
I was a little worried when I first got this CD. So often, retrospective recording of a band can be disappointing or dated. This applied across the different genres of music. Not  mentioning  any names, I have vinyl albums of some of my favorite band which will never be played again – they're past their listen-to date! However, every now and then something comes along and leaves you grateful that someone took the time to make it available again. This Terra Nova collection falls into that category.
Yes, there is a certain element of dated-ness in some of the arrangements, but not enough to spoil anything. The various singers associated with the band have excellent voices; the songs selected are tremendous; and the production is top quality.
The 18 songs here come from a variety of sources – traditional, Eric Bogle classics, Andy Stewart and other contemporary songwriters – and all are well-chosen, bringing out the best in the musicians.
The liner notes take you on the journey of this band, from its origins in Holland, to the US by way of Ireland, crediting the various members and binging you up-to-date with their careers and lives. The one person central from the group's beginning is Harry O'Donoghue, who also produced the album. The singer, guitarist and mandolinist has long been a favorite of mine. His Philadelphia days predate mine, so it was much later I came across his work. Now I'm a convert and listening to Terra Nova, I can hear how he developed his style, enjoy his earlier music and wonder why this band didn't cause much more of a stir when they were together. The Recordings will give you the opportunity to appreciate a really good band.
March 24, 2015
The Courier Herald
O'Donoghue's Irish roots on display at concert: By Dahlia Allen Harry
O'Donoghue played for an enthusiastic crowd and made an Irish connection when he performed Saturday night at Christ Episcopal Church. Helen O'Driscoll emigrated as a child with her family from Ireland's County Kerry ultimately to settle in Dublin and marry, thus becoming Helen Martin. O'Donoghue, a native of Drogheda near the Irish coast, had family members who originally were from County Kerry. And he dedicated a song to her about Tralee. Every seat in the church parish hall sold well in advance of the concert. People were welcoming back the Irish folk singer who brought his wit and music to Dublin for concerts a decade ago. They sang and clapped to the music and laughed at his Irish jokes – "groan humor" he called them. Many of his songs were well known to the concert goers, some of whom had seen him perform at Savannah pub Kevin Barry's. They clapped along with the chorus of "Whiskey in a Jar" and sang along with "I'll Tell Me Ma When I Go Home."
Some he accompanied with the guitar and others with a bodhrán, an Irish drum. He slowed the pace with "Danny Boy" and even brought tears when he sang "Dance with Your Daddy Tonight," a song he wrote to sing at a wedding. Originally an electrician, O'Donoghue worked in Ireland and Holland before he began singing with a folk group. In the 1980s, he came to the United States to stay. He said he came "for adventure" and to escape extremely high taxes in Ireland. O'Donoghue performs across the country and says that every community has pockets of ethnicity where traditional Irish music is popular. He said that the past three or four years are the busiest he has ever had. His newest project is called "Seasons of Love," he said. "It includes five songs that describe the stages of love – meeting, falling in love, leaving the nest, having a family and, finally, reminiscing. I've written a story to go with it and may do it as a stage play," O'Donoghue often performs at such community events as the St. Patrick's Festival. He has performed with the Savannah Symphony and will be part of the symphony's Christmas concert this year. He leads tours to Ireland and entertains on cruise ships as well.
Wednesday, December 10, 2014
Free Times
Stillness In The Air
By Kevin Oliver –
Harry O'Donoghue and Carroll Brown
Ireland-born Savannah resident Harry O'Donoghue and Elgin-based pub singer Carroll Brown have done Irish Christmas shows together for several years now, and this is their second album of Irish-style holiday songs. But the duo aren't the rambunctious "Irish Rover"-leading sing-along types you might expect — at least, they aren't on this collection. Instead, they pair familiar carols with some moving songs about the season in general and about Ireland specifically. In every case, the material is far more meditative than rabble-rousing.
Though it'd be easy to think otherwise, the titular song isn't a holiday tune. Rather, it's one written by O'Donoghue just after the hostilities between the factions in Ireland officially ended. It's the stillness that came in the absence of bombings and war that he sings of, bringing the concept of "peace on earth" out of Christmas carol fantasy and into real life.
Brown shows his chops as a country crooner on "The Man Who Ran The Inn," which observes the unique place the innkeeper has in the Christmas story. His "Frosty the Snowman" is nearly Burl Ives-esque in its droll delivery, although the percussion from Irish hand drums places this version squarely within the album's thematic frame.
O'Donoghue brings in at least one new Christmas classic, "'Tis the Season," among his sentimental offerings. It's a more traditional tale of candles in windows, presents under the tree, and the birth of Christ, performed in a gentle acoustic style.
There are enough familiar songs here to entertain the kids, but mom and dad will want to cue up the more contemplative tunes for that post-wrapping cup of eggnog. They're the perfect soundtrack for believers to reflect on the religious underpinnings of the Christmas season.
March 13, 2012
Connectsavannah.com
Harry go Bragh –  Harry O'Donoghue, Savannah's 'professional Irishman,' has his hands full this time of year
By Bill DeYoung
After three decades of St. Patrick's Days in Savannah, musician Harry O'Donoghue — a real, true son of Ireland from the coastal town of Drogheda — is pretty sure he understands the big picture.
"There are people who come here to celebrate St. Patrick's Day, but geographically they couldn't find the island with a map," he laughs. "But hey, at least they're embracing it — it's a party. Let's rock on."
Rocking on might not be a traditional Irish activity, but St. Patrick's Day, after all these years, no longer has much to do with the patron saint who drove out the snakes, or whatever. The anniversary of St. Patrick's death is both a liturgical and non–liturgical holiday, and in America, it's about leprechauns, shamrocks and a whole helluva lot of beer.
"I think Ireland, this time of year, looks to America, and Australia and other places where the St. Patrick's celebrations have taken on a life of their own," O'Donoghue says. "There's a great realization that this enhances the culture, and enhances tourism, and the Irish psyche and way of life."
Donoghue, who has family in Ireland, takes tour groups over several times a year. "St. Patrick's Day is still considered to be a holy day in Ireland," he explains. "They have a parade in Dublin, but it just isn't the same. The greatest celebrations of all things Irish are outside of the island, really."
A Savannah resident since 1987, O'Donoghue makes his living by traveling the country, with his guitar and his bodhran (Irish hand drum), singing folk songs of the old country at Irish festivals and in Irish–themed pubs.
Kevin Barry's, on River Street, is his home away from home. This St. Patrick's Day, as always, he'll be on the Barry's stage. "I love the Mardi Gras aspect of St. Patrick's Day on the river with 500,000 people," he says. "And I get to play a couple of sets with Frank Emerson and Carroll Brown. It's fun, everything's off the cuff, and I play a little bit more of the bodhran.
"With three voices, we can really get a lot of power behind a song. That's one of the things I look forward to the most." On his most recent CD, A Splash of No Regrets, O'Donoghue demonstrates his ability to not only sing a good old Irish folk tune — he has a stirring, clearwater tenor voice —but to write, and arrange, his own material.
His "other" influences run to the early '70s, James Taylor–led singer/songwriter movement, to country and bluegrass, and rhythm & blues.
On A Splash of No Regrets, produced by the estimable Gabriel Donohue, he mixes the genres — Irish and non–Irish — on a pleasing palette.
The songs, he says, take their own direction, and he's powerless to stop them. "It's very hard to be contrived," he says, "and say 'Well, OK, I'm going to write a traditional Irish song.'"
With a 30–year career already under his belt, O'Donoghue knows he can deliver the goods, whether it's an old–timey tune or one of his own … and anyway, he believes, "people form their opinions in their own minds. Like it or lump it, that's what's gonna stick."
He performs at the Savannah Irish Festival each February, and at the low–key Tara Feis at Emmet Park in early March. "At the Irish Festival, I host a singer/songwriter in the round kind of thing, and that is very enjoyable to me," he says.
"Working with different people and talking about the songs. I find that challenging, so I try and write new songs for that. And that's something I'd like to do more of. I don't get the opportunity as much as I would like.
"What I do now is, I sneak some of my own songs into a regular set. I don't necessarily tell people they're mine! If a song is good, it'll stand on its own merit … the last thing you need is that sympathy round of applause, 'oh, that was good, can we move on?'"
Now, St. Paddy's Day is another kettle o' fish entirely. The boozy throngs are likely to revolt if the troubadour onstage doesn't do a bit of "Danny Boy." Or, well, "The Unicorn," even.
"In the last several years it has been very civilized, so to speak," O'Donoghue chuckles. "I remember in years before there was a certain madness to the whole thing, with people crawling off the ceiling at 10 o'clock at night, but it seems to have calmed down a little bit.
"The management at Kevin Barry's keep a very tight rein on that. They've got good guys working the door, and a cover charge, so the people who really are not interested won't come in." 
---
A Splash of No Regrets Reviews
Deirdre Costello, Westland Recording Studio, Lombard
St. Dublin, October 28, 2010
I love the album. Great song choices with lovely arrangements
and excellent production. Of your own songs I particularly like The Park. As a
Jimmy MacCarthy fan I love the Mad Lady and Me, and I think your version of Love's
Been Good to Me is great.
---
Bill DeYoung, Connect Savannah Magazine.
For those of you who only know this native Irishman from his ongoing stint as an onstage
regular at Kevin Barry's, this CD will come as fresh and welcome as a breeze
out of the ocean. It is a fully-realized set of acoustic ballads – some
original, some from the Celtic tradition – that features not only O'Donoghue's
supple tenor voice and guitar, but pipes, whistles, flutes, piano, percussion,
cello and angelic background vocals by Marian Makins.O'Donoghue co-produced the
album in New Jersey with master musician Gabriel Donohue, who toured for years
with the Chieftains' band, and there isn't a voice or instrument out of place.
From the haunting "The Mad Lady and Me" and "The Galway
Shawl" (the one-two punch that opens the disc) to the traditional Scottish
lament "Loch Lomond" to O'Donoghue's "The Time Has Come (Ron's
Song)," A Splash of No Regrets is a thing of beauty.
---
"A great album"…Joanie
Madden, Cherish the Ladies
---
Kieran Goss, singer / songwriter.
"A beautiful arrangement of Reasons to Leave,
congratulations on the album"…
---
"Well done all,nice work"….John Reagan,
broadcaster, Limerick, Ireland.
---
Jackie Hayden,
Hot Press Magazine, Ireland. November 4, 2010
Harry O'Donoghue is a Drogheda singer-songwriter settled in the US
from where he's been generously supportive of Irish artists on his The Green
Island Radio Show broadcasting weekly in Georgia and on the Internet. His
new CD A Splash of No Regrets
contains a mix of trad stuff, covers and originals, and it's the latter that
primarily concern us here. 'Where You Happen To Be' is a tasty song about the
pleasures of familiar places, its simple melody delivered by O'Donoghue's warm
vocal. 'Snow On Millmount' is a more plaintive instrumental offering, with
whistles from Gabriel Donohue adding colour. 'The Time Has Come' has a
heartfelt wistfulness that should attract cover versions from singers in the
soft-folk genre.
No mistake, Harry has hit the proverbial
home run with Splash. The song selection is awesome, with each set of lyrics
complementing his slightly husky, laid back, story-telling voice. And the
instrumentals and chorals — oh my, what a lovely listen. Gabriel Donohue is more a fine producer; his string
work seems effortless. And Joanie Madden, Marian Makins, and Lanny Paykin give
such skill and soul to their harmonies and instruments, each interlude and
backup are worth attention.
My favorites? It's hard, it really is. Knife to my throat, I would name The Galway Shawl and The Time Has Come, but the rest are bunched up like a tinker's tick.
John Hutton, author. Rating: 5 of 5 stars!
---
Diane Byrnes, Echoes of Erin, WEDO 810AM, Pittsburgh PA.
As I sat here listening to the CD, listening was like sipping a glass of fine wine!  It
was so soft and gentle, descriptive – I could visualize many of the
songs!  The music was beautiful – Gabriel Donohue & Joanie Madden are
awesome, and to hear Joanie with her harmony vocals…yes!I have suggested to her
several times she should harmonize more because she does a beautiful job. Harry
O'Donoghue, I have been aware of you for a very long time, but unfortunately
never heard you sing … until now.  I really like what I am hearing, you
have a beautiful voice, so lovely and genteel.I'm listening for the second time
I think A Splash of No Regrets deserves some good air play, and I'll
begin airing you next Sunday. You have recorded some really good songs; I just
love 'The Mad Lady & Me', plus your songs are really very, very nice.
I have enjoyed 'The Park' & 'Where You Happen to Be' – these are especially
descriptive, your words created pictures for me! I think this is a beautiful
recording and much success to you Harry 'Donoghue!